ADVANCED PRESSURE REDUCING DESIGN
Outlast™ High Performance Cover
Featuring Phase Change Technology
The beautifully designed, super soft Outlast™ High Performance stretch knit cotton cover features Phase Change Temperature Regulating Technology. The Phase Change works to regulate temperature by absorbing heat and releasing it again when the body temperature drops, so you can enjoy a temperature neutral sleeping environment.
Cool HyPUR-Gel™ Comfort Layer
1 inch Cool HyPUR-Gel™ body contouring comfort layer
Cloud Memory-Gel Comfort Layer
1 inch Cloud Memory-Gel pressure relieving comfort layer
Comfort Core® Coil Support
8 inch individual Comfort Core® coils featuring Caliber™ Edge
Cool HyPUR-Gel™ & Cloud Memory-Gel both sense & respond to your body's weight, contouring to the body to promote proper support and pressure reduced sleep. Absorbs energy and motion – so you and your partner can sleep in undisturbed, peaceful sleep.
Comfort Core® coils featuring Caliber™ Edge support for a durable and consistent sleep surface. Coils flex & conform to the individual contours of the body for superior comfort & reduced partner disturbance. Coil Count: C/K: 868, E/K: 868, Q: 682, F: 580, TXL: 434, T: 406
Also featuring a 1 inch high density substrate base support layer for highly resilient cushioning support.
CONFORMS TO YOUR INDIVIDUAL CONTOURS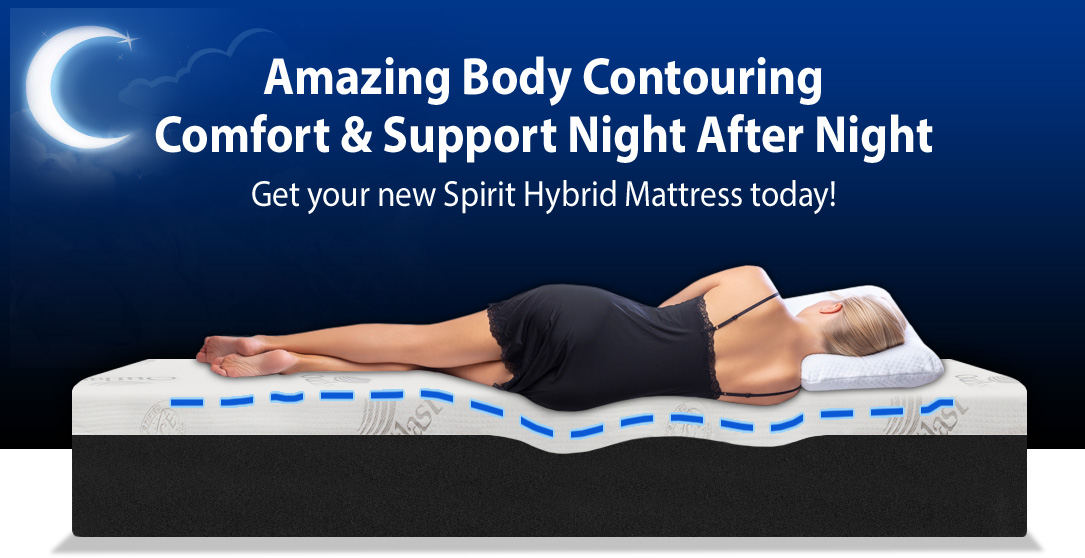 Spirit HyPUR-Gel™ & Coil Hybrid Mattress
Advanced pressure relief & cooling comfort
Available Sizes: C/King, King, Queen, Full, Twin-XL & Twin
FOR MORE INFORMATION OR TO PLACE AN ORDER, CALL TODAY:

1-800-InnoMax (1-800-466-6629)